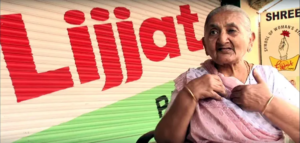 Women's empowerment can be defined to promote women's sense of self-worth, their ability to determine their own choices, and their right to influence social change for themselves and others.
Here we will talk about Jaswantiben Jamnadas Popat who from her enthusiasm, hard work and dedication uplifted women empowerment by motivating other women who were not educated enough but had the grit of making difference in their life as done by Jamnadas Popat and team.
Jaswantiben Jamnadas Popat is one of the women entrepreneurs and co-founder of Shri Mahila Griha Udyog Lijjat Papad. Jaswantiben Jamnadas Popat became the leader of empowerment with wealth in the lowest class of society. She started out on the terrace of a small building in Girgaum, Maharashtra with 6 of her friends founded the company producing popular 'Lijjat Papad' in 1959 as a household venture. She made 4 packets of papad and then went to a local market to sell in Bhuleshwar local grocery shop. She began her journey with an investment of ₹80.
Jaswantiben Jamnadas Popat with her team of women not just created a brilliant business and a brand, but also set-up an employment for women. Jaswantiben Jamnadas is 91-year-old and has been awarded with the Padma Shri Award, the fourth highest civilian honour by our Indian Government this year. SheThePeople met her at her home in Mumbai for this story.
While Popat did not have any knowledge about running a business, then not only her hard work but her team of Six women-Parvatiben Ramdas Thodani, Ujamben Narandas Kundalia, Banuben. N. Tanna, Laguben Amritlal Gokani, Jayaben V. Vithalani, and Chutadben Amish Gawadem gave her support and courage and to start this venture of creating papads.
Within three months, the group of Poput and her team of 6 women grew up to 25 women. After that these women bought some equipments to run the business, such as utensils, cupboards, stoves. In the first year, the organisation's annual turnover was ₹6196 and remaining broken papads were distributed among neighbours.
In 2002, Lijjat Papad team had a revenue of Rs 3 billion and exports worth Rs. 100 million. They have 42,000 people employed in 62 departments all over the country.
Today, the brand "Lijjat Papad" has grown to be a ₹1,600 crore business with 81 branches and employs over 45,000 women across the country, all of whom are considered co-owners in the enterprise.